Hurricane season is here and we want to make sure our service areas ready. The 2021 Hurricane Season was not an easy season and left our surrounding areas devastated. Meteorologists have warned us that this 2022 Hurricane Season is going to be full of Major Storms and we should be prepared. Coastal Roofing understands the importance of a home being prepared for something unexpected and we want to make sure everyone is as prepared as they can be. There are a few things you need to make sure are taken care of as soon as possible.
You should be asking yourself things like:
Are my repairs complete?
Have I done preventative maintenance to my home this year?
Have I inspected my home within the last year or since having serious weather this spring?
Below we are going to go over everything you should be doing before our first named storm arrives.
Still Waiting on Repairs
Don't be the homeowner that knows they need repairs and thinks, "I'll just wait for this season and then fix it all." You don't want to do this for a few reasons. The first is, that what currently is an inexpensive roofing repair can quickly become an expensive roofing replacement. If you know you have something like loose shingles or see missing shingles, make sure those get fixed right away. If you know this is an issue that your roof is currently having, call us today. Another reason is, that you don't know what insurance is going to say if you wait!
Preventative Maintenance of Your Roofing System
With Hurricane season here, we have had homeowners reaching out to us worried about their roofing systems and what preventative measures they can take to be proactive. It is important to be prepared and ready for anything that might come our way this Hurricane season. Below we have steps that we tell homeowners to take when asked about our professional opinion.
Roof Protect Maintenance Program
Our Roof Protect Maintenace program is designed especially for our Residential Customers. The goal is to help you protect your roofing and gutter systems from preventative damage. Our Roof Protect Maintenance Program gives our customers a piece of mind during times like this by providing customers with a clean roof, and a full inspection. When your annual roofing inspection is here, we do not just check for loose shingles and nails. We also inspect your flashing, fascia, soffit, drip edge, and overhang to ensure your system is ready for any major thunderstorm or hurricane that can show up unexpectedly or on short notice. Inspections also include pictures and documentation of your home before and after any cleaning or maintenance is completed. This is important to have in case your home does take on unexpected damage from this season's storms.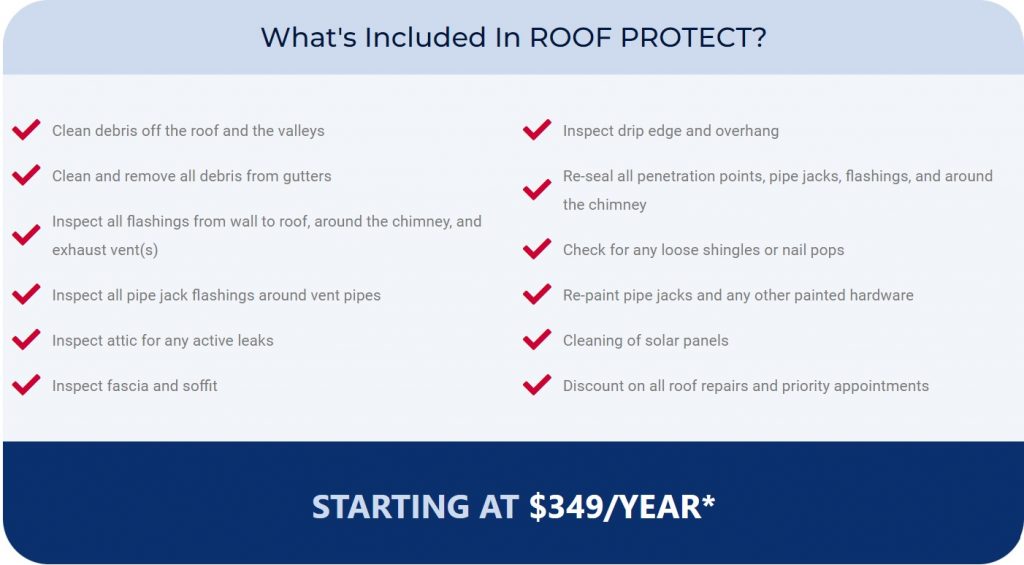 Check Your Insurance Policy
Our servicing areas have been hit with damaging thunderstorms this Spring and with Hurricane season coming, it is important that our customers make sure to look over their insurance policies. We work very closely with our customers and a lot of times we are on the phone with insurance as well, trying to help them out. With last season's Major Hurricanes, a lot has changed with insurance. We have homeowner's insurance companies that are no longer accepting policies in this area. We also have seen policies changing and certain things not being covered anymore. Now is the time to look over your policies and make sure your home is protected. Don't wait until a named storm is coming to take action.
Take Action Now
It's hard to take action when you don't know who to trust and that is why we always tell customers when getting first or second opinions to always ask their roofing contractor if they are licensed and insured. Don't always take their word for it either. Make sure to visit websites that will allow you to check for your potential contractor's license for free. Louisiana and Mississippi both have websites where you can check this information. We also tell potential customers to visit the Better Business Bureau to make sure whoever you use is someone you can trust. With Coastal Roofing, you can know you are in good hands as we are both licensed and insured in both Louisiana and Mississippi.
Taking action is always easier said than done when it comes to affording a project and that is why we take pride in giving our customers competitive pricing. We will always offer professional roofing services with competitive pricing to all of our residential customers. We understand that a lot of times roofing repairs or roofing replacements come at the most unlikely of times and this is why we also offer financing.
Ready or Not, Hurricane Season Is Here
Remember that inspecting your home is just as important as buying hurricane snacks and batteries. Unlike those two things you have to do this well in advance. With that said, if you have been putting off your Roofing Inspection, Roofing Repair, or Roofing Replacement, stop what you're doing and Call Us Today at 833-239-7663 or contact us using our contact form.