When we were contacted about riding in the Krewe of the Pearl parade in Picayune, Mississippi, we were hesitant to say yes. Of course, we wanted to but none of us had actually ever ridden in a parade before… and we had zero throws! One of our team members said, "It's a Mardi Gras parade, how hard could it be?!" And just like that, we found ourselves signed up for our very first parade.
If you have ever thrown a last-minute party, you know it comes with the stresses of getting things ready. You know… the fun little details that make a party a PARTY! We had already planned on getting some vehicles wrapped and had them scheduled, but had no clue if it could be done in time. Thankfully, LionGrafix in Slidell showed up for us and got 1 of our trucks wrapped, and a trailer, too! We were one step closer to being ready for our big debut in a Mardi Gras parade.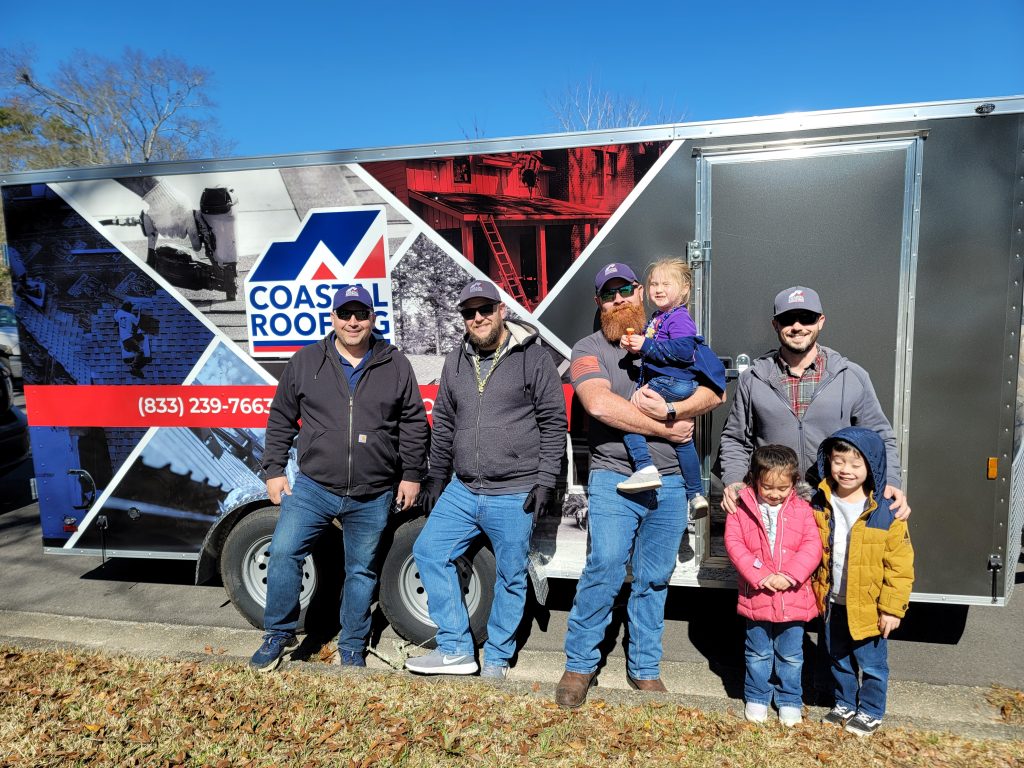 On February 5th at 1 pm our team started to arrive and we prepared to line up. We remember thinking, "I hope these people know who we are." The Krewe of the Pearl parade has been going on for over a decade and here we were a company about to have their 2nd anniversary, showing up, and hoping to make people smile.
As we lined up to get ready, several riders welcomed us and asked if we needed anything before starting. We ordered some pizza from Dominos and shared it with surrounding parade riders as we waited for everything to begin. Some of our team brought their small children with them and they were in awe of the fun cars, people dressed up, and the floats. We couldn't wait to start the parade at this point. We had bags of candy and two trucks FULL of beads and throws, thanks to family and friends.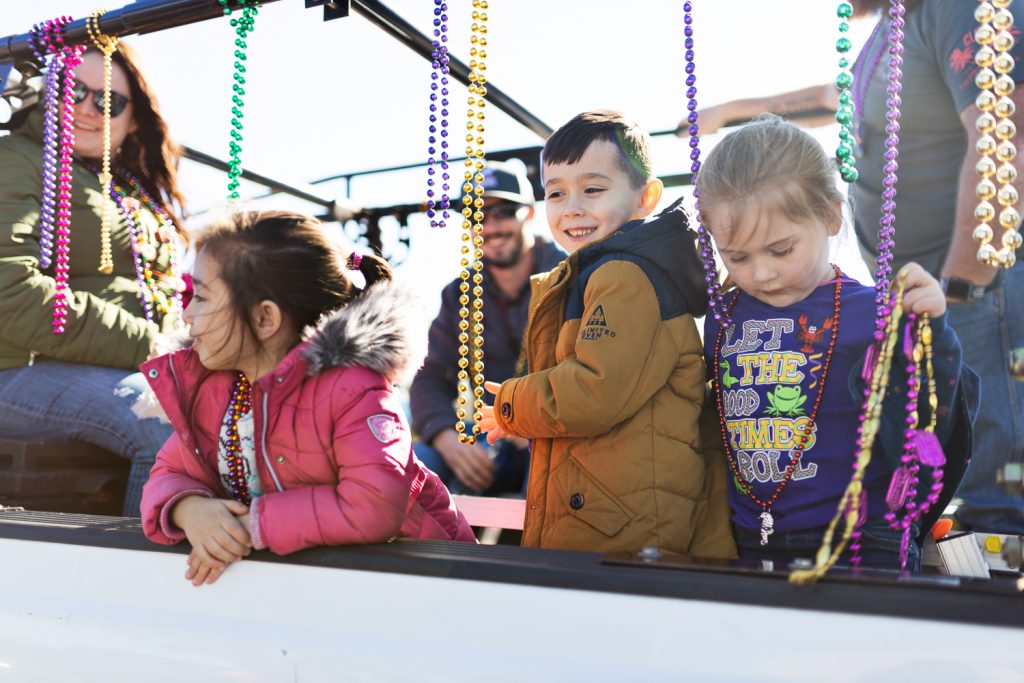 The parade finally started to roll and our team and the kids were so happy. As we turned onto Goodyear Blvd., we immediately heard someone say, "Hey, you did my roof!" You never realize how good it could feel, hearing a smiling customer yelling out, "That's my roofer!" We figured that was the only time I would hear that. Turns out, we actually lost count of how many times people said they knew us, or we worked on their roof. It was humbling to see how many people in our community not only knew of us but believed in us and stood by us. We love this community and all the communities that we service. The Louisiana and Mississippi Gulf Coast is our community. It's our home and we will spend the next 50 plus years making sure our clients are safe and sound with a roof over their heads in a place they call home.
We can't wait for next year's parade, the kiddos are already asking when they can throw candy to their friends again. Click here, to see some of the fun we had that day.
Here's a quick recap of our time at the Krewe of the Pearl Mardi Gras parade on February 5, 2022!